SiteSell - Create a website without technical knowledge
Developed by: Site Sell Inc.
Commission: 25%-30% on new customers
Sub Affiliate Commission: 0%-7.5% dependent on amount of sales
Minimum Payment: $100 Canadian


Since 1997, SiteSell.com books, courses and software have delivered "E-commerce For the Rest of Us." Hundreds of thousands of entrepreneurs and small businesses outperform larger, well-financed competitors. SBI! is the all-in-one site-building-hosting-&-marketing system of software tools that delivers thriving, profitable businesses.

SiteSell provides the "5 Pillar Program" as a chance for affiliates to promote their line of internet marketing ebooks: Dr.Ken Envoy's eBook Make Your Site SELL! 2002 is considered as the bible on Site-Marketing. His 5 pillar affiliate program was chosen as the best affiliate program on the Internet some time back.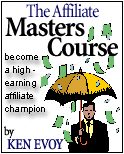 The program provides an extremely effective tool for selling Site Build It, the Affiliate Masters Course. This free ebook walks the reader through many of the functions that Site Build It automates. This is one of the best resources on building income through content... at any price... If you're new to affiliate programs, this course will show you all possible ways to make money on the Internet.

Download


Tracking System:
You'll get your own unique Referral-Redirect URL. This is a special "yours only" link that tells that the visitor/customer came to the SiteSell sales site through you. For example, if you choose "sales," your RR URL will be http://www.sitesell.com/sales.html

Payout Schedule:
An Affiliate can earn a First-Purchase Sales Commission, a Repeat-Purchase Sales Commission or a Commission on Total Team Earnings. SiteSell will, on or about the 15th of each month, mail or otherwise transmit the Sales Commission representing the amount payable for the sales completed in the previous month.

Cost:
Join the 5 Pillar affiliate program-- for free -- and start earning!