How to Buy, Sell and Profit on eBay
Kick Start Your Home Based Business in Just 30 Days
by Adam Ginsberg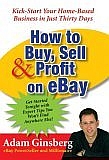 This book is a great basic start for anyone who has no experience with ebay and a good reminder of some helpful tips for those who have experience, but have not gotten seriously involved yet. It also has very good advice for the beginner in the entrepreneurial world regarding taxes, bookkeeping, and other important things you should be doing when you start a small business. This is one of the best books on this subject, because it combines lots of practical advice with a motivating personal story.
"How to Buy, Sell and Profit on eBay" is a pretty straightforward primer on the do's and don'ts of starting your own eBay business. With ebay's worldwide customer base of over 150 million people, the little guy can now compete on a level playing field with huge corporations. The author doesn't promise that you'll become rich overnight, but instead, he says up-front that being a successful seller is hard work - on eBay or anywhere else. But if you're willing to consider and apply some of the prooven principles here, you can learn to work smarter, not just harder.
About the Author
In October 2001, Adam Ginsberg was the owner of a small pool table business who decided to try selling his pool tables on eBay. In less than one year, he became the number one seller in the Sports Category, and then was named eBay's #1 new seller in 2002. He now moves around a million dollars of merchandise on eBay every month. His eBay business is projected to exceed $15,000,000 this year, his feedback satisfaction score is 99.6%, and he is a Titanium Power Seller, eBay's highest status.
Adam Ginsberg graduated from Tulane University with a Bachelor of Science in Management and a minor in psychology. He has been featured in Billiard Digest, Entrepreneur, Kiplinger, and Fortune magazines. He has also appeared on CNBC with David Faber and ABC World News Tonight with Peter Jennings, and is a key speaker with the Learning Annex, America's top seminar chain.
Costumer reviews:

Adam Ginsberg knows all the ins and outs of eBay. Even if you're not computer literate, he makes it so easy to understand everything from the basics, to the most advanced tips to becoming a powerseller and making thousands a month. Thanks to this book, we took our eBay sales from $2,500 a month, to $7,000 a month, and we're now an eBay Silver Powerseller! Better yet, we also generate over 150 new leads every single month. I recommend this book to anyone who's looking to make eBay their primary or additional business.

This is a clear, bright, fun book to inspire and give courage to those who are new to the Internet and eBay. The writing style is great - it took me just over a day to read the entire book...actually, I couldn't put it down!want out of the ratrace but don't know how to accomplish it. Great stories illustrate well documented success strategies.

I've been a member of Ebay for 7 years. During that time I've bought more than I've sold there - but learned a lot through the entire process. Adam Ginsberg's book has given me the motivation to seriously start thinking I can eventually quit my sucky daytime job and maybe go into business on Ebay full-time. And, as Adam correctly points out, you don't have to immediately quit your day job to get started and found out if such a move is really for you. Experiment with his strategies, sell a few items and see what happens.
Adam also smartly addresses the ubiquitous question every potential Ebay entrepreneur asks, "What in the world DO I sell on Ebay?" Let's just say that Adam gives a pretty convincing evidence that you could sell something like used popsicle sticks on Ebay - if you know how to structure your ad and overall Ebay business the right way. More importantly, he demonstrates that if you change your thinking on what to sell - you begin to see a whole new world of opportunity on saleable items.
Adam's approach is gripping - I nearly finished the book the day I received it - because you feel like that even though it's obvious he's no dummy when it comes to business - he readily admits his weaknesses that obviously affect his early business acumen on Ebay. Yet he is willing to learn, adjust as a result, and finally improve whatever Ebay task he is doing - something that certainly changed the scope of his auction operation - and a path that any Ebayer interested in boosting his business can perform. Adam sprinkles his Ebay ventures with touchy-feely stories about family, friends, and life in general. One really feels he's just your average, nice family guy who just so happens to discover Ebay - then distinguish himself from every other Tom, Dick, and Harry selling there - to create a multimillion dollar business.
After reading Adam's book I'm more convinced than ever that I too, can do the same.