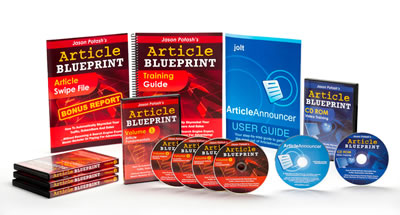 ArticleAnnouncer -- Ezine & Article Submission
Developed by: JOLT! Marketing
Commission: 35% Per Sale
Sub Affiliate Commission: 5% Per Sale


The ArticleAnnouncer software is a part of JOLT! Marketing affiliate program that tracks also other products and services like PTB Niche Marketing Seminar , PTB Ultra-Advanced Google AdWords Audio eBook , Ezine JV , Ezine JV Secrets 'Viral' eBook , PTB Next Scheduled Live Webcast , Ezine JV 'thankyou' page , PTB Product Creation Audio eBook , Ezine Cash Cow , PTB index page , Leads & Profits Teleseminar , PTB Traffic,Testing & Tracking Audio eBook , LIVE Web Copy Makeover Webinar , PTB Affiliate Marketing Seminar , Jason's 'shocking' new report The commision is the same for all this products!

Fill out an online affiliate application form and you'll immediately receive your personal, unique, affiliate URL -- place this link on your web site, directly in your ezines or ads. Whenever someone "clicks through" on your link and purchase any products/services you will be rewarded with 35.00% of the total order amount.

Tracking System:
As a new affiliate, you will receive your own unique URL:
http://wetrack.it/eza/af.cgi?aid=xxxx&ent=yy where:
xxxx is your affiliate id
yy identifies the products you offer
If the same customer ever buys within a 2 year period, you'll get the full credit! The only exception is if another affiliate referred the same customer after you.

Payout Schedule:
Payment is issued in the form of a check in US currency. When a sale is made through your affiliate link, you'll immediately be notified by e-mail. You can login anytime to your stat page to view all your sales statistics (real-time statistics such as how many visitors you referred, conversion ratios, sales volumes, and commissions earned).

Cost:
You can join this FREE program right now.